Hey guys. I've always wanted to start a thread about this show, and I'll repost the comment I wrote on the show's page with some small changes:
This show was one of the most wonderful live-action TV shows I've ever seen.
Bill Bixby was wonderful in the role of David Banner, who would go from town to town desperate to search for a cure. You really felt sad for Banner because of his curse, and the character's pathos is really well developed.
Jack Colvin was fantastic as the lead's frequent annoyance, Jack McGee. Pursuing the Hulk ever since the beginning, he starts to find out during the chase that the Hulk really isn't really the killer he made it out to be.
Lou Ferrigno also gave an excellent performance as the Hulk, giving him the perfect amount of rage and emotion. Whenever the Hulk cried, I really started to cry with him, because of Lou Ferrigno's ability to show emotions.
Ted Cassidy and Charles Napier did an awesome job doing the Hulk's roars. Ted Cassidy also narrated the show's opening. When Cassidy passed away, Napier took over as the Hulk's voice, while Cassidy's narration was left intact. Personally, I've always preferred Napier's roars, because they are a lot more threatening and savage (especially in the TV movies). They remind me a lot of Bob Holt's Hulk roars.
There were episodes like "My Favorite Magician" which were extremely fun, and then you have episodes like "Married" and "Homecoming" which really leave you crying at the end. Also, you have awesome two-part episodes like "Mystery Man", "Prometheus" and "The First" which feature some of the show's most interesting concepts (like amnesiac Banner joining forces with McGee, Banner getting stuck in mid-transformation and the existence of another being capable of turning into a raging monster).
The two pilots (The Incredible Hulk and A Death in the Family) do an awesome job in establishing the plot and Banner's character.
The first two TV movies (The Incredible Hulk Returns and The Trial of the Incredible Hulk) were all about having fun (though Trial is a lot darker than you may expect). The first one features a very likeable version of Thor, and the second features Daredevil and the Kingpin, as well as the very first Stan Lee cameo (and a Richard Newman cameo as the remember Tinker Toys guy).
Eric Kramer and Steve Levitt were really awesome as Thor and Don Blake. They have great chemistry and Thor's has a lot of epic and hilarious moments. And Blake, like Daredevil and Yasmin in the next two Hulk movies, does really well as a kindred spirit for Banner.
Rex Smith played Daredevil really well, and the movie really makes you feel for the character. I also like the fact that the movie develops a brotherly relationship between Banner and Murdock and their pretty similar accidents, which is really cool. Banner became the Hulk due to long exposure to Gamma Radiation and Daredevil lost his sight after some green radioactive liquid fell into his eyes.
John Rhys-Davies is an excellent Kingpin. He has a pretty sophisticated and strategic air about him, he looks pretty awesome (especially with those black sunglasses) and he just feels like a crime boss, but one with style.
The last movie (Death of the Incredible Hulk) doesn't feature any comic characters (with the exception of a Black Widow-type of character) but is quite probably one of the best Hulk stories.
Yasmin, the Black Widow character, is a pretty cool character. Like Banner, she's had a lot of tragic moments in her life, and later helps Banner to save the Pratts from her former Russian allies.
The Hulk dies by falling of a plane, and even though a lot of people point out the fact that he fell of a plane previously and survived, they don't seem to notice that in this film, he falls from an EXPLODING PLANE!!! The Hulk isn't as strong as his comic incarnation, but he could heal, unless the damage was catastrophic. And in this case, it was. Banner dies, and the tragic search ends in a very tragic conclusion which left me on tears.
Another TV special was planned, in which Banner was going to be revived as an intelligent Hulk. However, according to writer Gerald DiPego, the special was cancelled due
to low ratings.
This cancelled special would have featured Iron Man and She-Hulk. Although there is no info as to who would have played Iron Man (though I've seen a very awesome picture of RDJ's Iron Man with his mask up and with Raul Julia's face in place of RDJ's face, and according to legend, Tom Selleck was considered to play Iron Man), She-Hulk would have been played by Brigitte Nielsen.
Although Lou Ferrigno has reprised the role in voiceover projects, the closest thing we'll ever get to Bill Bixby voicing the character is Michael Bell's performance in the 1982 Hulk cartoon (Bell sounds just like Bixby, especially when he grunts and screams).
It was a very emotional and very powerful show, and that's why I love it to this day.
Now for the goodies...
Brigitte Nielsen as She-Hulk: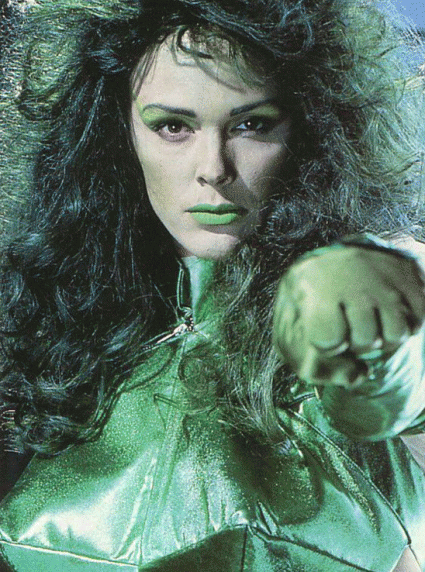 Documentaries about the TV show's creation (combined into one video):
https://www.youtube.com/watch?v=rViKXLFI87w
Jack Kirby cameo:
https://www.youtube.com/watch?v=8VZ1KEx20tM
Lou Ferrigno interview:
https://www.youtube.com/watch?v=qM0xjZ7tZdY
Death of the Incredible Hulk promo:
https://www.youtube.com/watch?v=ftDceR01yEc
TV Intro:
https://www.youtube.com/watch?v=YOXpKUu6pUg
AWESOME Thor scenes:
https://www.youtube.com/watch?v=cE9pPPyt2lg
https://www.youtube.com/watch?v=J1VyBanb-_E
https://www.youtube.com/watch?v=gvB5v7ofRMc
Trial of the Incredible Hulk movie:
https://www.youtube.com/watch?v=Zvs6mZ4gClw
Awesome Death of the Incredible Hulk scene:
https://www.youtube.com/watch?v=USAMb3x114c
The saddest scene from the whole series:
https://www.youtube.com/watch?v=DNQQkhzZumQ
Lou Ferrigno's last live-action appearance as the Hulk:
https://www.youtube.com/watch?v=b080FeigN8g
NOTE: The Death of the Incredible Hulk scenes are in the best quality I could find, because Universal has taken down all the good quality clips of this movie (as well as the TV show and the intro portion of Returns).
Hope you enjoy this thread and the videos attached, and for more vintage goodness, check out these threads:
http://www.behindthevoiceactors.com/...ad.php?t=14114
http://www.behindthevoiceactors.com/...ad.php?t=14180
Enjoy and post your thoughts.