<!– google_ad_section_start –>
Review
»
Young Justice - "Cornered"
By
Foxwolf
(Admin)
Tue Jan 15 2013
at 7:10 PM
Alright, after a forced 3-month snooze, Young Justice is finally back with a brand new spankin' episode. And it didn't disappoint. How many shows can boast a showcasing of politics, cage fighting and "Dr. Phil-ing" all the in span of 22 minutes? Once again, our heroes are put through the grinder.
* Warning: This review contains spoilers *
Story
At the end of "Before The Dawn", the Reach had beaten the League by outing themselves first to the public as "friendly visiting aliens". One of the stories involves Captain Atom and the Reach Ambassador politically dualing in the presence of Secretary Tseng. Captain Atom attempts to explain the true nature of the Reach but is thwarted by the Ambassador as he reveals to Tseng all of the League's secrets, including the existence of the Watchtower. The main event though is the arrival of the alien Despero, who has come to Earth in search of a worthy battle with a super-powered champion. Some members of the League and Team are trapped in the Hall of Justice and forced to fight Despero in a "cage match", which leaves the Hall a little worse for wear. The last story follows on the successful rescue of the civilians and Team members. Black Canary puts on her councelling hat again as she talks one-on-one with each person and what happened during their kidnapping. She finds out that the civilians were put through tests until they revealed the potential to developing a super-power. Those without superpowers were disposed of.
This was a really well rounded episode. Even though only one third of the stories involved action, I felt every one of the Ambassador's rebuttals was equally as painful and more destructive to Captain Atom than Despero's blows to Captain Marvel and Superboy. In the course of a very short time, the Reach have more or less won the trust of the Earth and held out the Justice League's public reputation to dry.
The captives councelling was probably the weakest story in that the drawn conclusion was something we all knew/guessed for quite some time. That the Reach wanted to control super-powered humans who carry the meta-gene. I'm more curious about how they handle the newbies. I mean, they can't let them loose on the street. The Reach might try to kidnap them again, or their powers might be a danger to themselves or the public. The "rival schools" look between the super-powered newbies and the Team's freshman was classic.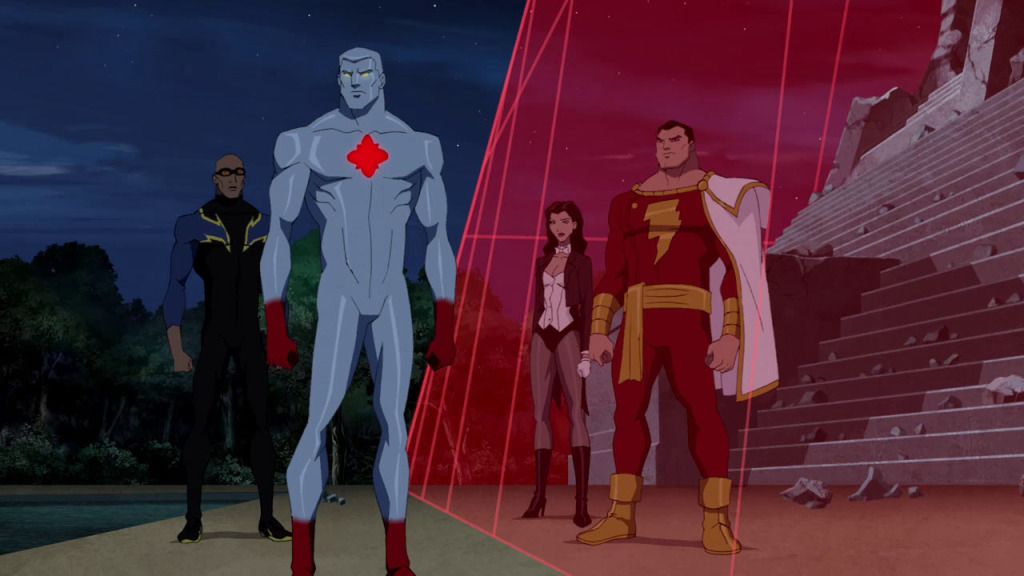 Characters
L-Ron - I thoroughly enjoyed this short-lived character. A majordomo in all respects, which could've been a deliberate choice for not having Despero speak as it showcased many aspects of his personality. I mostly enjoyed his light-hearted commentary and augmentation of the English language by adding "ism" to the end of some words.

Despero - My knowledge of him is based off his animated incarnations so I always thought of him as an intellectual opponent rather than a gladitorial brute. And given his third-eye mind powers, I found this interpretation to be a rather odd choice. The choice to having him only respond in grunts and growls made him come across more like a Doomsday.

Mal Duncan - After pretty much being a tertiary character all season, Mal finally got a chance to shine. Great to see that despite not being a field Team member that he also gets combat training. I didn't realize in the comics that he took over the mantle of Guardian after Jim Harper. I thought he was going to put the costume on and become Herald, the superhero that has the horn and dimension jumping power. His bluff of summoning the powers of earth and mankind was awesome. Also, totally gotta feel for the guy with the way Bumblebee's been treating him. The dude has no home and you shut him out? Cold. Clearly there's some commitment issues here.

Miss Martian - Well, it comes as no surprise M'gann would never be the same after her brain blasting of Aqualad. While her refusal to use her telepathic powers came as no surprise, I guess the whole "shocked to her core" schtick came off as a little uninteresting since it's so common for a character in any story to go through the same thing. I mean come on, Superboy was about to have his head crushed.

Nightwing - I'm really not understanding (or being fond of) the fact that Nightwing is sidelined in so many missions/episodes. At least the short amount of screentime he gets counts. Gotta love the "Robin-ism's" - warehouse => warehome.

Captain Atom - I read on Greg Weisman's site that the Justice League often rotates leadership depending on who's available. So it's fresh to see Captain Atom take the reigns while most of the Leaguer's are standing trial on Rimbor. He's definitely authoritative and has leadership qualities, but man did the Ambassador take him down a few pegs. Oh, and that fake smile ... priceless.

Ambassador - This guy is the definition of a politician. Has an answer for everything and is able to turn his opponents secrets back on themselves. No doubt the Light have assisted in some intel but boy, what a villain. I'd wanna see a debate between him and Lex Luthor.

Virgil Hawkins - Great to see some clarification on this character's identity. The reference to his better known "Static Shock" alias was a nice touch without being cheesy. When I saw him in "Before The Dawn" I thought he was going to unleash a spontaneous surprise attack on Black Beetle.

Impulse - Can't talk about characters without mentioning my fave. Minimum screentime here but that nervous speed twitch was a scene stealer.
Voice Acting
Kevin Michael Richardson - His major roles of Martian Manhunter and Mal Duncan usually stay within a pretty confined range. But in donning the Guardian costume, Richardson got a chance to stretch his acting, going over-the-top (deliberately of course) and pulling off some smart alecky one-liners.

Phil LaMarr - Sounded like he had a blast voicing L-Ron. The commentary and twisted sense of honor in his dialogue about having a fair fight was delivered so convincingly one would never have thought this character was a robot.

Bryton James - A short scene to work with but gave us a chance for us to feel what Virgil went through during his time under the Reach's captivity.
Standout Performance
As mentioned above, Kevin Michael Richardson got a chance to make Mal Duncan shine. We got more character in one episode than we've had for the entire season.
Favorite Quote
"Do you Earthings truly have no concept of honorable single combat ... Do not follow Earth females. Do not interfere! It is pooooor sportism!!" - L-Ron
Visuals
The action as always was pure eye-candy. Despite having the powers of invulnerability, you could just feel the pain that Captain Marvel and Superboy were going through. The extra effort in the animation to make the environments that the characters were ploughed through just made it feel that much more brutal. That's a lot of destroyed concrete drawing. I remembered a time when kids shows weren't allowed to show punches. If you paused on the moment a fist was supposed to make contact with a character, you would find it be a white screen. Not anymore. Despero pummelling Captain Marvel in the face? Daaaang. Kinda similar to Black Beetle smashing Wonder Girl into the door. The thing is, it's not just mindless action either. There's quick character moments as well. Like Captain Marvel double punching Despero's hand to get free. Superboy pulling down Mal and Despero from one floor below. And even Billy Batson taking out L-Ron with his Shazam!
Conclusion
Three storylines, two of which left our heroes in a deeper hole than had already been dug for them by their enemies. Both physical and mental battles lost. This is my favorite kind of storytelling. The true test of a character (or in this case, characters) is how they handle themselves in the worst of situations. And although "Cornered" stays true to it's namesake, I have a feeling this isn't even the worst of it.
BTVA OVERALL RATING
4.0
BTVA VOICE ACTING RATING
4.0
<!– google_ad_section_end –>
Latest Comments