<!– google_ad_section_start –>
Review
»
Young Justice - "Before The Dawn"
By
Foxwolf
(Admin)
Sun Jan 6 2013
at 8:44 PM
What a rollercoaster ride it's been for Young Justice in terms of scheduling. The show has been through multiple hiatuses, and 2 years since it's official premiere on January 7th 2011, we're still only 1.5 seasons in. But thankfully it's back (along with the rest of DC Nation), and I for one am extremely excited to watch what could be the final 10 episodes of the one of the best animated superhero series ever. This is in part due to the writing of Greg Weisman (Spectacular Spider-Man, Gargoyles), the superbly choreographed action sequences, the high quality animation/designs and the mature nature/tone of the show itself. Of course who could forget to mention the voice cast, which consists of "big guns" like Nolan North and Kevin Michael Richardson.
A quick tidbit. As some of you might be unaware, when Young Justice was abruptly pulled from the Cartoon Network schedule last October, the episode was still made available on iTunes and Amazon Instant Video the following day. January 5th 2013 however was it's official air date.
* Warning: This review contains spoilers *
Story
A little background on the production of the show. Before Season 2 had an approved 20 episodes, it was first greenlit for 10. Greg Weisman on his website "Ask Greg" stated that the story/outlines for those 10 episodes were in place before they were aware of the back 10. What this means is in the event Season 2 had only been 10 episodes, "Before The Dawn" would've acted as the series finale (much like episode 26 of Season 1 was concrete before Season 2 was greenlit). I like the fact that the producers didn't assume that their show was ending and in turn bookended their episodes. Season 1 obviously ended a little more tightly with just the "missing 16 hours" being the biggest open-ended question. Though had Season 2 ended with this episode, it would've left a lot more questions unanswered. I'm extremely curious what the case will be for episode 20.
When we last left off, Aqualad had blown up Mount Justice and kidnapped Blue Beetle, Impulse and Beast Boy. This was all in an attempt to further convince his father Black Manta, the Light and the Light's partner that he has severed his affiliation with the Team and the Justice League and chosen a new path. "Before the Dawn" starts off with a flashback from Jaime Reyes while being held captive to who we learn are an alien race of scientists called the Reach. Jaime recalls his first encounter with the Blue Beetle scarab, which occurred as a result of an explosion at Kord Industries. It's presumed that Ted Kord, the first Blue Beetle died in the explosion and why we saw his memorial in the grotto underneath Mount Justice. We learn that the Reach are the creators of the scarab and have come to Earth to research and experiment on the human "meta-gene", which gives a person super powers. The biggest reveals are that the Light's partner is Black Beetle (a being who possesses his own scarab and the same powers as Blue Beetle) and that Blue Beetle plays a hand in the future apocalypse. The remainder of the episode is essentially a rescue mission, where the Team infiltrates the Reach's hidden spaceship deep within the ocean. Amidst the rescue, Miss Martian enounters Aqualad, and in a moment of rage does "her thing". The end of the episode involves a fruitless Team battle against a seemingly invincible Black Beetle, until Blue Beetle steps in and goes mano o mano with his "big brother".
What I love about Season 2 is that it retains the same "secrets and lies" theme of Season 1 without feeling like a rehash, except the Aqualad mole plot, which to be fair is a different twist to the Red Arrow plot. This was definitely a worthwhile pay-off episode given all the events leading up to it. We finally found out who's behind the "Invasion" the namesake of this season. So what I can piece together is the Light sent the Justice League to Rimbor to wreak havoc on a universal scale, which led to their relationship with the Reach, who in turn plans to build an army of meta-humans that will help the Light take control of the Earth, which finally leads to the future apocalypse. The Reach had already experimented with Neutron back in "Bloodlines". It was also cool to see the entire Team all in one episode, getting a chance to each showcase their skills and work together against their biggest threat yet.
Characters
To say that Young Justice is short of character development would be the biggest understatement of all time. Greg Weisman is renowned for writing rich, deep characters, and he and the show's writers have no problem putting their characters through hell. I can't think of one regular character who's life is like a parade of pandas skipping on a rainbow.

Blue Beetle - It's clear now the key role Beetle plays in this season is the reason why he's had more screentime than any other new Team member. And he's really grown on me. Being the rookie of the team, his maturity and caring nature have really become apparent in recent episodes. His disapproval of using lethal force (as recommended by his scarab counterpart) and concern for his friends and team members really define his character, especially considering all the power he possesses.
Black Beetle - We've yet to learn much about him but he seems like a soldier fighting for a cause as dictated by his Reach masters. No doubt given his shadowed appearances earlier on that he'll play a key role in the rest of the season.
Aqualad - While we now know that Kaldur is working undercover for the Team, Wally did throw a wrench in the mix by questioning whether or not he might be a triple agent. I don't believe that's the case. I still believe in the purity and honor of his character that was showcased so often in Season 1. Kaldur is certainly very sly and subtle in gathering intel from the enemy whilst keeping his cover.
Artemis/Tigress - She's only been Tigress for two episodes but Artemis has already distinguished her role as Kaldur's right hand. The previous episode she came off as a disguised version of Artemis. In this one, there was a clearer distinction what with her ordering around the Manta troopers.
Nightwing - What an arc Dick Grayson is going through. He's gone from "The thing that drives him to sacrifice everything for the sake of his mission... That's not me. I-I don't want to be the Batman, anymore." to "... worth sacrificing if it helps us stop the invasion.". He's starting to justify all his actions ironically for the sake of the mission. His blatant lie to Supergirl about where he got the Reach intel came off almost as though he's starting to believe his own lies. I'm looking forward to seeing what ramifications come about if/when the rest of the Team and League find out what he's been orchestrating.
Miss Martian - Talking about consequences, I think it's been safe to assume that Miss M's karma is right around the corner. She too has gone through a lot of change. Going from the innocent "Hello Megan" cheerleader to invasive mind/memory "messer-upper-er". She now knows the truth about Aqualad and that Artemis is still alive. I'd hate to think her karma is simply regret and remorse. Her actions deserve a harder lesson. And yes, Miss M isn't one of my favorite characters :)
Superboy - Didn't have a lot of screentime, but his reveal as a Manta trooper in disguise was still cool. I'll state the obvious and he's gone from a hard-headed guy to level-headed leader. Connor's been through enough in season 1. I'm glad he has the least number of issues compared to others.
Impulse - Ah, my favorite character of Season 2. Comic relief characters who are actually funny are great. Add purpose and responsibility to their repetoire and you an all-round awesome character. For the youngest hero on the Team, we've found out he's carrying a huge burden on his shoulders, ie. the prevention of future events he's experienced. At first we thought it was just to come back and save Flash's and Neutron's lives. Now we've learned his main purpose was to prevent Blue Beetle from going back "on mode" and under control of the Reach. His future "mode" and "crash" lingo are really catchy too. Reminds me of "shway" and "twip" from Batman Beyond.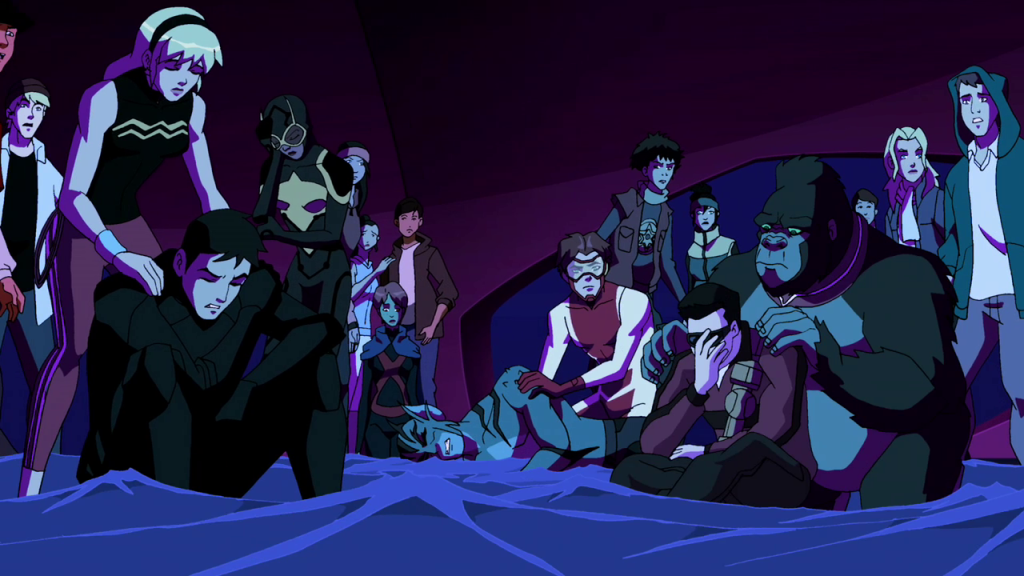 Now I loved the 5 year timeskip and how the Team was expanded. In fact I love shows that show growth in their characters both personally and physically (Dragon Ball Z and Ben 10 come to mind). It allows you do to do things to your characters you wouldn't normally be able to do unless you were approved for a handful of seasons. The downside is if you've grown to love the characters in Season 1, you'll be sad that you can't see what happened to them during those 5 years in an animated format. The Young Justice companion comic book does fill in some of the gaps. The other downside is that with so many characters to juggle in Season 2, some don't have a lot of focus and even if they appear in an episode, they don't necessarily get any lines (eg. Robin/Tim, Lagoon Boy and Captain Atom). This is no fault of the producers. It's simply because they don't have the budget to pay for so many voice actors. Greg has said that every voice actor is paid the same flat fee regardless of how many lines they have.
Writing
Normally I'll have nothing but praise for the writing in Young Justice, but I have to point out the extremely cheesy and crescendoing villainous laugh from Black Beetle.
Voice Acting
The voice acting was solid as always. You never feel like the performances drag down an episode.
Kevin Grievoux - Although the character sounding pretty monotonous in terms of sounding like a cool, calm yet arrogant villain, Grevioux's mega bass just plasters cool all over Black Beetle.
Masasa Moyo - Pulling double duty as the Reach scientist and Bumblebee, Moyo does a great job of creating a distinctly different and rather sinister voice for the scientist.
Phil LaMarr - Also pulling double duty, LaMarr's Reach Ambassador sounds a little similar to his Aquaman, but brings to it a no-nonsense and policital tone to the character. Aquaman sounds a little more grand and relaxed.
Eric Lopez - No doubt Lopez has a blast voicing such polar opposites in Jaime Reyes and the Scarab. I love the fact the Scarab always seems to be ticked off, especially due to Reye's refusal to complies with it's lethal and obliterative recommendations. Lopez delivers Reye's strength, innocence and fears on point.
Stephanie Lemelin - I really like the fact that Lemelin deepened her voice for the role of Tigress. She's actually one of favorite VA's in Young Justice. Her acting just comes across so naturally. So it saddens me to be a little put off by her lines at the docks. It's like she was trying too hard to sound like a villain. Though Lemelin totally made up for it in her later scene against Miss M and Beast Boy. Beautiful delivery on "I'll take mine. You take yours. And count yourself lucky boy.".
Tim Curry - I think I might be the only one who's distracted by Curry's performance as G. Gordon Godfrey. I know he's supposed to be a little "out-there", but to me every line he utters comes off as over-the-top and caricaturish.
Voice Casting
For the casting I'll keep it specifically to new characters that appeared in this episode. While Kevin Grievoux was already credited as the Light's partner early on in this season, it was in "Before The Dawn" that we found out who he was actually playing. Grievoux's deep voice is indeed a very suitable voice that matches the sheer size of Black Beetle.
I won't speak much about the casting of the Reach Ambassador and Scientist since it's a little hard to tell how much of a key role they'll play in the rest of the series. The utilization of VA's from the existing extended cast is obviously efficient and as mentioned above, Moyo and LaMarr filled the roles convincingly.
I'll make a special mention of Mae Whitman in the cameo appearance of Stephanie Brown, better known to comic readers as one of the later Batgirls. Whitman also played Batgirl in Batman The Brave And The Bold.
Favorite Quote
"Apologies meat, but no one goes anywhere." - Black Beetle

I love when non-human's called us "meat" or "meatbags" (Red Volcano used this term). And Black Beetle just delivers a very courteous line that the Team is about to get the biggest ass whooping ever.
Visuals
This kudos is really for the series as a whole but the animation and designs to me are of theatrical film quality. Granted I don't watch as many shows as I used to, but I've never seen this amount of shading and detail go into the characters. I'm not surprised there were slight delays in production because effort in the animation is in-your-face obvious.
Conclusion
"Before The Dawn" is certainly one of best of episodes of the series. Reveals, revelations, full Team appearance, and frustratingly awesome, more questions! It's been half a season, but we can see now the potential magnitude of this invasion. Bring on the the back 10 episodes!
BTVA OVERALL RATING
4.5
BTVA VOICE ACTING RATING
4.0
<!– google_ad_section_end –>
Latest Comments